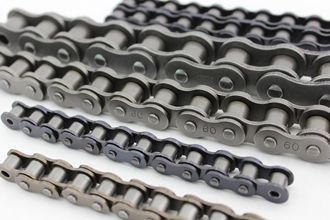 Short Pitch Precision Roller Chain(ISO & ANSI)
Roller chain (ISO & ANSI) is known for its high strength and persistent fatigue durability. The sizes fully comply with ANSI standard. It can be assembled into single-row, double and many rows applying to the transmission power and different configuration space.
According to different working environments, there are different chains with galvanization, nickel plating, chromium plating and Dacroment treatment for you to choose. All surface treatment modes do not contain hexavalent chromium.
Based on the transmission roller chains, various attachments like types A, SA, K, SK, and D can be installed according to different functions, forming the most widely used chain products in the field of materials transportation which are appropriate for diversified demands of different industries.
The experimental data show that abrasion of chains is related to the selected lubricating oil. Hengjiu can provide oil film for surface rust protection when the roller chain leaves factory, which can lubricate and reduce friction for a long time; meanwhile, its quality meets EU REACH specification and is more environment friendly.